Today, we split our team into three main groups.
The first one made observations and interviews with workers from Seeedstudio. Before the lunchtime, we moved to their kitchen to speak with potential customers. We received a lot of interesting feedback from them. For instance, most of the Tupperwares were owned by women, because they like to know what they are eating and they also paid attention of their body. Tupperwares were mainly built in glass. They perceive plastic as less hygienic. Thanks to Chenyue who could speak her native language with them!
The second group went back to the biggest electronic market to get our first 3D printing and find some components needed.
Our 3D printing look fabulous! Our designer is proud and satisfied of it. We might print other pieces from this supplier as well as other CHIC teams.
The third group went to Seeedstudio for working on our PCB. Our media interaction designer helped engineers to progress on their tasks. After long hours of working, our electronic engineer came to us showing us this amazing result!
Last but not least, at the end of the day, we moved all together to a maker space to pitch our concept.
This pitch was particular, because a part of the audience could not understand english. To respond to this situation, Yumeng had translated all sentences into Chinese as an interpret. She was perfect and everybody was impressed by her high performance during all the night!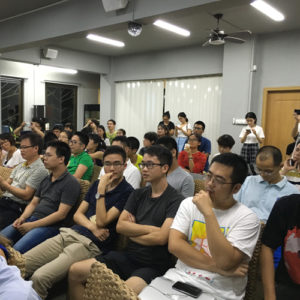 This night was a great and unexpected experience for all of us. Having the opportunity to pitch in front of Chinese makers and receiving from them such great questions and feedback without language barrier was a privilege.
Tomorrow, we are looking forward to testing and to running our PCB. We will also assembly all main pieces together and sincerely hope that it will all fit into the Hibachi! Finally, we will also pitch our concept in front of HAX, a renowned accelerator.